Deb Desilva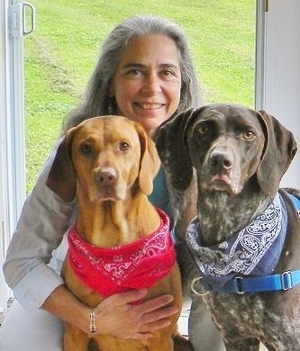 Training
My Canine Companion, LLC - Deborah DeSilva, CPDT-KA, is the only "Certified Professional Dog Trainer – Knowledge Assessed", instructor/assessor for the Pet Professional Guild's - Pet Dog Ambassador Program, and evaluator for Duke University's Dognition Program in northern New York. She serves on the national canine training and behavior education committee for the Certification Council of Professional Dog Trainers (CCPDT), is a member of the Association of Professional Dog Trainers (APDT) and the International Association of Animal Behavior Consultants (IAABC). Deborah is also a certified trainer and evaluator for A.K.C. S.T.A.R. Puppy; A.K.C. Canine Good Citizen; A.K.C. Trick Dog Title; Love on a Leash Therapy Dog.

As the head trainer and behavior consultant for My Canine Companion, LLC, Deborah provides small group classes, private training, therapy dog training, puppy temperament testing, assessments, behavioral consultations and behavior modification at Canine Adventure, LLC. Deb employs non-aversive scientifically proven training methodology for both the human and canine ends of the leash. She has developed and taught a dozen different classes, preparing handler/dog teams for both competition and canine companionship. Click here for a detailed description of Deb's training philosophy.

As a presenter, she has covered topics for both the general public and dog training professionals including: Puppy Behavior Development: Pre-School to Pre-Adolescence; Canine Adolescence: Training and Nutrition; Adolescent Training Challenges, Fear Aggressive Canines: A Desensitizing Protocol; Canine First Aid and CPR; and Canine Scent Work.

As a faculty member at the State University of New York at Plattsburgh, Deb combines her 30 years as a college professor in the field of communication and her canine training and behavioral experience. She is able to engage both people and their canine companions with her comprehensive and effective communication methods. She has also served three terms as the President of the Clinton County Canine Club, a not-for-profit organization of over 150 members.

For further information about these services, to schedule an appointment, or to register for a class: contact My Canine Companion, LLC - Deb DeSilva, CPDT-KA at desilvdj@gmail.com, 518-293-7619, or visit mycaninecompaniontraining.com.
Click here to go back to the main Services page.

"Our 2yr old rescue has learned many essential commands, thanks to Deb. She has become a happier less fearful dog. Deb has a vast knowledge of canine behavior, explains training steps clearly, demonstrates, offers helpful suggestions, and provides pertinent written information/instructions." Henny & Nyla

"We went into this class (Canine Companion Basic) with our 6 year old dog with the goal of teaching him to respond and listen to us better. We definitely met that goal and more. Our dog not only listens, but is excited to listen! This matches Deb's training philosophy of using only positive reinforcement and "force free" methods. Because of this philosophy, the class and homework are enjoyable and fun for both dog and person; none of it feels like a chore. Deb makes the material easy to understand and she is very accessible with questions both in class and via email. We 100% recommend both the class for any aged dog and Deb as a trainer." Caitlin & Rookie
"You're an amazing instructor who always encourages and inspires. It's always such a joy participating in your classes and we're looking forward to our next session." Mary & Noah