About Us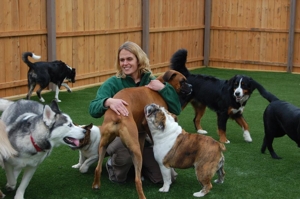 Deidre
Deidre Berman has always had a love for animals.
Our History
Prior to opening Canine Adventure, LLC, Deidre spent several years traveling the states to gain the animal behavior and training knowledge needed to run this business. During her travels, she worked as a vet tech while earning a BS degree in Animal Behavior and Psychology from Towson University. Deidre also attended seminars given by world renowned animal behaviorists, trained domesticated animals at SeaWorld Adventure Parks, and was assistant manager at a large dog daycare in Virginia.

Deidre has continued her education in animal behavior and group play. In 2012, she attended the Pet Boarding and Daycare Expo in Baltimore, MD where she collaborated with many other day care professionals and participated in seminars provided by the leaders in the dog day care industry. Recently, Deidre completed her Pet First Aid Certification by the Pet Professional Guild. Proud member of The Dog Gurus (Safe off-leash dog play), Deidre feels that continuing education in group play is extremely important in order to offer a safe, happy, and healthy environment for all canine visitors.

Canine Adventure, LLC offers approximately 4,600 sq.ft of outdoor space and 1,800 sq. ft of indoor space. The artificially turfed outdoor space is divided into sections so that during the nice weather both our small and big adventurers can enjoy being outside. The indoor space is completely covered in rubber matting to cushion the joints during play, A/C during the summer and heated during the winter months. Our interior play areas can be reconfigured to offer three different playrooms based on size and temperment.